Latest News
Summer Term 2 Meal Order Forms
REMINDER - Summer Term 2 Meal Order Forms
Please could we remind you to send in your completed Summer Term 2 Meal Order forms by Friday.
People Who Help Us- Dress Up Day Tomorrow!
REMINDER - 'People Who Help Us' Dress Up Day Tomorrow
Please can we remind you that tomorrow your child is welcome to wear non-uniform and dress up in any outfit inspired by ' People who help us' e.g. Police Officer, Fire Officer, Nurse, Doctor, Postal Worker, Lifeguard.
Red Riding Hood & The Three Little Pigs
Tickets are now available to purchase at £5 each from the school office.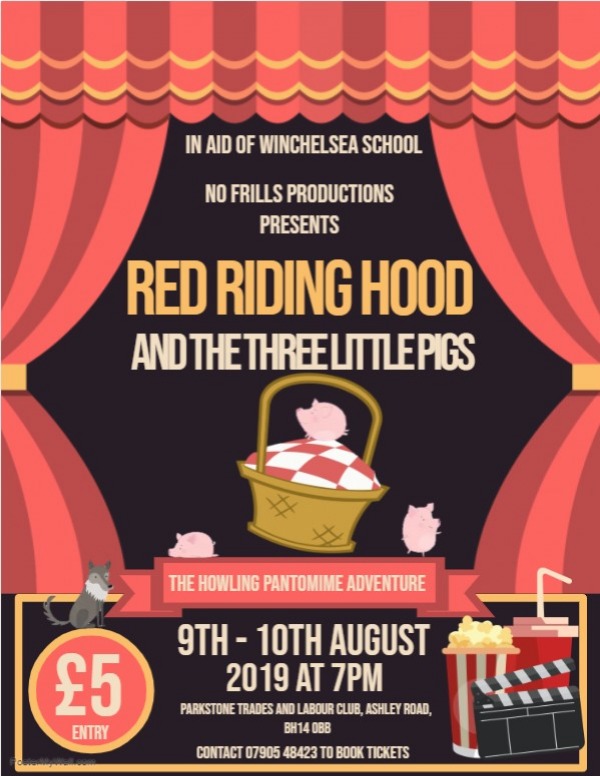 *CANCELLED* AAC Information Day
Dear Parents/Carers
Due to exams taking place Monday 13th May 2019 the AAC Information Day has been cancelled and a new date will be rescheduled in due course. Sorry for any inconvenience.
Circus Starr Is Coming To Town!
Dear Parents/Carers
Circus Starr is coming to town Friday 24th May 2019. Please contact the school office for a maximum of four free tickets per family with a choice of 4.45pm and 7pm. This is a relaxed performance which is always very popular bringing the magic of circus to those who usually struggle or may be new to the experience of live arts.
April 29 Newsletter
Click here to view the April 29 Schoolzine eNewsletter!
Winchelsea Satellite Provision
We are delighted to announce an exciting piece of news.
Both Canford Heath Junior School and Old Town Infant School & Nursery have been working closely with Winchelsea School to explore and develop a satellite provision located at each school. As a result, from September 2019, Winchelsea School staff will be teaching a group of pupils with additional needs at each site.
This collaboration will enable pupils to gain access to specialised teaching, which will help meet their specific needs, whilst also providing an excellent opportunity for the development of social and communication skills in a mainstream setting.
We are all confident that the shared expertise and staff development that this opportunity will enable us to meet the needs of all our children in an exciting and innovative way; it is a project which ultimately will bring benefit to staff and pupils and both Winchelsea and the host schools. In addition, we are confident that all of the schools will work closely together to provide high quality support for staff and pupils.
CANCELLED- Car Boot Sale
CANCELLED - Friends of Winchelsea Car Boot Sale
Unfortunately the car boot which was due to take place this Sunday has been cancelled.
Friends of Winchelsea Car Boot Sale
REMINDER - Friends of Winchelsea Car Boot Sale - This Sunday 28th April
Location: Winchelsea School
Time: From 9am-12pm, Sellers can arrive to set up from 8am.
Cost: £5 per car
If you would like to book a pitch to sell items, please email Judith Powell:
Or contact the school office.
Friends of Winchelsea Car Boot Sale
Friends of Winchelsea Car Boot Sale - Saturday 28th April
Location: Winchelsea School
If you would like to book a pitch to sell items, please contact Judith Powell for further details:
54powellja@gmail.com